News
Out in January is the latest issue of Children's Theatre Magazine. Reviews, news, views, features and listings of the productions in early 2017. www.childrenstheatremagazine.co.uk Follow us on FaceBook and Twitter – and send in your news, listings and stories to childrenstheatremagazine@hotmail.com
———————————————————————————–
Now in its second year, the Learning Through Stories partnership project is showing considerable improvements in the literacy levels amongst pupils involved.
Pegasus has worked with eight Oxford based primary and secondary schools in the last academic year and at least 80% improvement has been recorded overall due to the impact of the project beyond normal curriculum achievements. Most pupils recorded at least one level of improvement, 31% of the group achieving an improvement of two levels or more.
This year Pegasus will be working with years 3-5 in seven primary schools and year 8 pupils in one secondary school, following up the work of the previous year. A number of professional tutors with a variety of creative skills are working with the pupils at special sessions in schools. Illustrators, creative writers, directors and arts specialists are helping the young people to make a class book of their work. Pupils are also creating short performances that they will present at Pegasus before classmates and family members.
Tale Trail, which explores cultural heritage, will be performed on Thursday 29 and Friday 30 January.
The performance is an important element of the project giving the pupils a sense of achievement and a celebratory moment to share with their peers and families.
For details visit www.pegasustheatre.org.uk/shows/tale-trail/
———————————————————-
In the immortal line: "the show must go on" despite problems for Peter Pan this week it appears it will go on in Exeter tonight. And so  after last night's dramatic cancellation of Exeter's most talked about show this Christmas the Northcott has signalled it's all systems go for Peter Pan tonight.
On Thursday came the news that has shocked the theatre world in the Devon city: the big Christmas show was not ready. Patrons were rapidly contacted and the theatre released this statement:
"We're very proud and excited to be presenting J.M. Barrie's magical play of Peter Pan this Christmas. The show is in preview this weekend, with the press night on Monday evening."
"We are presenting a very ambitious staging, with an inventive set and large cast, including local children. We have taken the very difficult decision to cancel Friday night's preview and all customers have been re-accommodated at a later date, or if they preferred, refunded."
Peter Pan is traditionally an extremely difficult play to stage with its wires for the flying scenes and large sets consisting of the pirate ship to Wonderland and of course London. JM Barrie wrote the story as a play with a number of stage instructions further complicating the drama but due to its magical theme of flight, wild adventures with Indians, mermaids and pirates the show has been a hit since it was written.
Now the production has become the most anticipated show in the South West due to its difficult birth. Press night is on Monday and the play is set to run from tonight, Friday, December 2, to January 1, 2017. More on Twitter and Facebook and at www.childrenstheatremagazine.co.uk
The Northcott has more on the show on their Twitter account – showing some of the challenging technical issues which lie at the heart of the show including film of how the actors will fly around the stage.
The listing for the show in Children's Theatre Magazine is below:
EXETER Exeter Northcott Theatre, Stocker Road, Exeter, Devon EX4 4QB; 01392 493 493; http://exeternorthcott.co.uk/ PETER PAN Fri 2 December 2016 – Sun 1 January 2017 Age 5+ Directed by Paul Jepson. Production Design by Ellan Parry. Escape to Neverland this Christmas with Exeter Northcott Theatre and the boy who never grew up… Join Wendy, John and Michael as they soar into the night sky with Peter, to a magical land of mermaids and fairy dust, where children can fly and all sorts of exciting adventures happen every day.  But beware – danger is just around the corner. Captain Hook and the pirates are looking for revenge and Peter Pan is top of their list! For over a hundred years children (and adults) have drifted off to sleep dreaming of Tinkerbell, the Lost Boys, fairy dust, crocodiles and of course the villainous Captain Hook.  Featuring death defying feats of flying and a generous sprinkling of fairy dust, let your imagination soar in this magical new stage adaptation of J.M. Barrie's classic story – the perfect festive treat for all the family.
—————————————————————————–

Weird fairytale becomes a story of a magical kid on the 8th floor of a block of flats in Dublin
Take the idea of the fairy story of the Princess and the Pea and move it to the eighth floor of a run-down block of flats in urban Dublin. Change the princess to an eight year old boy and make it all 21st century and you've got a new drama touring the emerald isle called Far Away From Me. It runs from mid Feb to mid March and we think it should go north then cross to Scotland, and via Wales to England. It sounds an interesting play.
The publicity blurb reads: "World premiere of a brand new theatre show by Amy Conroy, inspired by weird story of  The Princess and the Pea and infused with the wild energy of aerial performance, dance music and great storytelling. Kevin is a little prince…at least that's what his mum tells him. Kevin likes the idea of this, of being a prince on a horse, a beautiful brown horse with a white splotch down his nose, and galloping across the kingdom.
His kingdom. From his bedroom behind the eighth door, on the eighth floor of a tall building (one of eight in a row), Kevin can go. And he wants to go. Far away from here.  So his towering imagination takes him on some high-flying adventures. But there's a storm coming and he needs to decide what's real and what's not real as his fast paced fantasies land with a spectacular bump right there on his bed."
Far Away From Me: 12 Feb – 15 Mar 2015 at the Ark in Dublin. As well as dates at The Ark, Far Away From Me will be touring to six venues across Ireland in April, all supported by an Arts Council Touring Award.
The show can be seen at: Draíocht Arts Centre, Blanchardstown; Riverbank Arts Cebtre, Newbridge; Linenhall Arts Centre, Castlebar; Dunamaise Arts Centre, Portlaoise; Pavilion Theatre, Dun Laoghaire; Town Hall Theatre, Galway. TICKETS Public: €12/€9. Family Ticket €40 for 4.
20% off for Family Members. Schools: €5 per student; Public Performances Every Sat & Sun from 14 February to 15 March @ 2pm & 4pm Mid-term Tue 17 – Fri 20 Feb @ 2pm & 4pm; School Performances Thu 12 Feb @12.15pm Fri 13 Feb @ 10.15am & 12.15pm Tue 24-Fri 27 Feb, Tue 3-Fri 6 Mar & Tue 10-Fri 13 Mar @10.15am & 12.15pm; AGE RANGE & DURATION For Ages 6+ Approx 50mins; ARTISTS Written & Directed by Amy Conroy.
Details of the show: http://ark.ie/events/view/far-away-from-me The Ark, A Cultural Centre for Children, 11a Eustace Street, Temple Bar, Dublin 2 DDL: +353 1 899 4099

——————————————————–

Do you find Shakespeare a bit hard? Then try this bunch of nutters with A Comedy of Errors
For their first experience of a Shakespeare play then Propeller Theatre's 60 minute version of The Comedy of Errors is not a bad one for children to start with. The show is on tour this spring beginning in Charlton Kings in January and continuing into March where the show hangs up its costumes in Canterbury.
The cheeky, comical and decidedly all-male production has been performed in theatres around the globe. Pocket Propeller productions are pocket-size adaptations of Propeller's full-scale tours, aimed at young people and first-time theatregoers.
In The Comedy of Errors, two sets of estranged twins, separated at birth, find themselves in the same city 25 years later with hilarious consequences. A series of mistaken identities, assumed personas, and wild mishaps bring a family crisis into focus.
The plays are adapted by director Edward Hall and Shakespeare Scholar Roger Warren and designed by Michael Pavelka. The cast includes Darrell Brockis, Joseph Chance, Anthony Jardine, Richard Pepper and Dan Wheeler with newcomer Max Hutchinson.
The full tour dates are (excluding school visits):
BATH, The Egg Friday 23 – Saturday 24 January 2015; LONDON, Victoria & Albert Museum Tuesday 27 & Wednesday 28 Janury 2015; LOUGHBOROUGH, Town Hall Tuesday 3 February 2015; KENDAL, Brewery Arts Centre Wednesday 4 February 2015; BEDFORD, The Place Thursday 5 February 2015; WELLINGBOROUGH, Castle Theatre Friday 6 February 2015; KINGSTON, Rose Theatre Tuesday 10 – Wednesday 11 February 2015; LUTON, Library Theatre Friday 20 February 2015; WARWICK, Dream Factory Friday 27 February 2015; FOLKESTONE, Quarterhouse Thursday 26 February 2015; NORWICH PLAYHOUSE Wednesday 4 & Thursday 5 March 2015; CANTERBURY, Gulbenkian Saturday 7 March 2015.
————————————–
Unicorn announces new season beginning with Bertold Brecht's The Caucasian Chalk Circle
Based in London near London Bridge the Unicorn Theatre is staging a production of Brecht's The Caucasion Chalk Circle aimed at school audiences. The director of the play Amy Leach talks about the drama on a short film on You Tube.
Accompanied by Dom Coyote's live and original soundtrack, Amy has taken a fresh look at Bertolt Brecht's moral tale to create a bold and electric production for a new generation of theatregoers.
THE CAUCASIAN CHALK CIRCLE
16 Jan – 21 Mar | For ages 11+

———————————————–

Cymbru spring includes new Welsh plays plus Stick Man and Mermaid
Artistic Director, Rachel O'Riordan has announced Sherman Cymru's Spring 2015 season, which is focused on celebrating new writing from Wales as well as visiting productions from across the UK.
At the heart of the season are two world premieres of plays commissioned and produced by Sherman Cymru in Cardiff.
Welsh playwright Matthew Trevannion's Leviathan script is a co-production with Òran Mór, and Gary Owen's, Iphigenia in Splott. The Sherman Theatre is also to support new work from Welsh companies with National Theatre Wales's Crouch, Touch, Pause, Engage (19 February-7 March) and Theatr Genedlaethol Cymru's Y Fenyw Ddaeth o'r Môr and Pan Oedd Y Byd Yn Fach (9-11 March).
Directed by Theatr Genedlaethol Cymru's Arwel Gruffydd, Y Fenyw Ddaeth o'r Môr will be at the Sherman Theatre on 12 and 13 March. Their second production of the season, Pan Oedd Y Byd Yn Fach opens 19 – 21 May. Written by Wales's Sian Summers, Pan Oedd Y Byd Yn Fach is the world premiere centred around the 1984 Miner's Strike.
Torch Theatre's new play Grav; and emerging Swansea-based comedy sketch company, Double Dipp are also on the programme with the theatre's big Christmas show in the main a dramatisation of CS Lewis' The Lion, The Witch and The Wardrobe.
Theatr Genedlaethol Cymru will be bringing two new plays to the Sherman. Henrik Ibsen's captivating and mysterious love story, The Lady From the Sea, has been translated into Welsh for the first time by Menna Elfyn.
Sherman Cymru's playwright-in-residence, Katherine Chandler (Sherman Cymru's The Ugly Duckling / Yr Hwyaden Fach Hyll, Bristol Old Vic and Sherman Cymru's Before It Rains) has written a new play, Hood, as part of the National Theatre Connections Festival which will be performed by Sherman Youth Theatre (25 – 28 February) before Sherman becomes the regional venue for the National Theatre Connections Festival on 11 and 12 April. During the NT Connections Festival local young groups will perform one of the 10 plays written by the 10 commissioned by the National Theatre for this year's Connections Festival.
The Sherman has its first resident company, Pluen. A bi-lingual emerging company, run by Cardiff-based artists Elgan Rhys and Gethin Evans.
Alongside the programme of new work from Wales, Sherman Cymru welcomes Cardiff Shared Experience, with their bold reimagining of Hans Christian Andersen's, Mermaid (21 – 25 April), a tale of love, loss and desire. Using a chorus of local young women to create an unearthly musical landscape Shared Experience conjures the magical world of the mermaids.
Theatr Iolo will be presenting a new show by breadandcircuses; written and directed by Danny Braverman, Wot? No Fish!! (27-30 May). Wot? No Fish!! first appeared at the Sherman Theatre in 2013 as part of the Unity Festival.
The show mesmerised and captivated audiences with its funny, moving journey of a Jewish family living in 20th century London and audiences have a second chance to see this production.
Sherman Theatre is also showing Scamp Theatre's adaptation of Julia Donaldson and Axel Scheffler's popular children's book Stick Man – pictured below – (14 and 15 April).
For full details and listings of shows visit www.shermancymru.co.uk or contact Sherman Cymru's Ticket Office on 029 2064 6900.
—————————————-

Funday Sundays for very young theatre goers
Pegasus in East Oxford is a regular hub for shows and activities for under 5s and their families. Every month Pegasus Funday Sundays, an alternating programme of dance and storytelling puppetry shows, offer a regular slot for young families to have fun together.
Baby Boogie brings together a real DJ and disco atmosphere for toddlers to share with their carers. A dance workshop before the disco helps get everyone prepared for a fabulous hour of hit after hit on the decks – all very child friendly. The sessions are presented by Dancin' Oxford with professional dance teachers while craft making activities take place in the theatre's cafe run by Pegasus Youth Theatre members.
Alternate months bring Wild Boor Ideas with Puppets Go Wild featuring a different show each time. Founder Emma Boor creates wonderful imaginative stories with music, song and lots of laughs and participation. Each show finishes with a chance to meet the puppet characters involved.
Baby Boogie At Pegasus, Magdalen Road, Oxford, OX4 1RE
Sunday 11 January workshop 10.30am & 1.30pm, disco 11.30am & 2.30pm
Sunday 8 March disco 2.30pm
Sunday 3 May workshop 10.30am & 1.30pm, disco 11.30am & 2.30pm
Sunday 5 July (at Cowley Road Carnival)
Tickets £7 disco and workshop
£5 disco only
Box office 01865 812 150
www.pegasustheatre.org.uk/shows/baby-boogie/
www.dancinoxford.co.uk
Puppets Go Wild At Pegasus, Magdalen Road, Oxford, OX4 1RE
All shows at 11am & 2pm
Sunday 15 February Macamu
Infectious songs and stories including goblins in the loo and tangoing toys
Sunday 12 April The Grow Show
Get down to ground level and watch the garden grow with wiggly worms and pretty insects
Sunday 7 June The Treetop Restaurant
What do animals eat? Find out and have fun too!
Sunday 2 August The Peanut Butter Pirates
Will they find the treasure and still get home in time for tea?
Tickets £5
Box Office 01865 812 150
www.pegasustheatre.org.uk/shows/funday-sundays-puppets-go-wild/
——————————————

Sex and Caroline Quentin
Over sexed teenagers may suddenly go all English Lit when they spot Caroline Quentin (pictured) appearing in Fanny Hill in a dramatisation at the Bristol Old Vic in February.
The Bristol Old Vic and Lamplighter Theatre co-production of The Life and Times of Fanny Hill should play to packed houses of teenagers mixed with Quentin's TV fans.
The infamous novel written in 1748 (and subsequently banned across the English speaking world) follows the rise and fall of the eponymous heroine and her life in the brothels of Georgian England. It is adapted for the stage by April de Angelis (currently the writer in residence at the National Theatre) and directed by Michael Oakley.
Many a teen growing up in the pre-internet era will have read it for the dirty bits but today's generation of readers will appreciate its strong narrative and female centric plot.
The erotic novel is generally considered the first prose pornography in the English language and thus opened the floodgates of the genre. More importantly it is a window into 18th century England and its attitudes to women, the poor and sex. Which is why GCSE and A-Level students of Eng Lit should see it.
The Life and Times of Fanny Hill runs from 5 Feb-7 Mar at Bristol Old Vic.7.30pm, 2.30pm (Thur & Sat mat) £34 – £7.50. Age 12+. www.bristololdvic.org.uk
————————————-

Much ado online
The Royal Shakespeare Company (RSC) has announced that it will become the first UK theatre to co-host a MOOC (Massive Open Online Course). The Much Ado About Nothing: In Performance MOOC will take place in March 2015 giving young people aged 16 – 19 around the world free access to leading Shakespeare experts, actors and directors.
With a growing percentage of young people using online and digital resources as a springboard to their experience of culture, the MOOC is the latest in a number of initiatives from the RSC that makes use of new technology. Other programmes include the RSC's series of free Schools' Broadcasts which stream RSC productions directly into classrooms throughout the UK and a new, free suite of interactive whiteboard resources for teachers.
Together with opportunities to see Shakespeare performed live, and the Company's ongoing work with schools and teachers nationwide, these schemes are transforming the way that young people experience Shakespeare and reaching audiences on a scale that was previously unimaginable.
The RSC believes that its first MOOC and its recently launched free interactive resources for teachers will continue this success.  The suite of free interactive resources for each of Shakespeare's plays will act as 'one-stop shops' housing everything a teacher would need in order to teach a particular play. The resources for Henry IV Parts I and II are already live, with more planned for this academic year and the whole Shakespeare cannon will be online by 2019.
Further information, introductory trailer and details of how to sign up for the Much Ado About Nothing: in Performance MOOC are available at: https://www.futurelearn.com/courses/much-ado-about-nothing
Information about the RSC's Schools' Broadcast Programme and the screening of Love's Labour's Won (Much Ado About Nothing) on 30 April 2015 can be found at: http://onscreen.rsc.org.uk/education/default.aspx
For more information about the free interactive whiteboard resources including Henry IV Parts I and II, visit: interactive-learning.rsc.org.uk.
———————————————–

New Wolsey Ipswich panto clocks up 400,000 tickets
Last month the New Wolsey Theatre took part in the third National Panto Day, and to celebrate they released some stats on past performances at the Ipswich venue.
The following information has been gathered from 2001, when Artistic Director Peter Rowe's rock'n'roll pantomimes began at the New Wolsey Theatre:
By February 2015, 400,000 tickets will have been sold for pantomimes over the last 14 years. That's enough to fill:
Wembley Stadium = 4.4 times
A Boeing 747 = 1159 times
An Ipswich Bus = 4210 times
….and Ipswich Town Football Club's Portman Road stadium 13.2 times!
According to the theatre they have performed each of the seven traditional panto stories twice.
Altogether, 90 actors have appeared in their rock'n'roll pantos. The top five appearances are:
Shirley Darroch – 553 performances (7 pantos)
Harry Myers – 430 performances (6 pantos)
Steve Simmonds – 385 (5 pantos)
Sarah Mahony – 326 (4 pantos – currently Luxury in this year's Beauty and the Beast)
Esther Biddle – 325 (4 pantos – currently Good Fairy Fortunate in this years' Beauty and the Beast)
The total combining playing weeks of all 14 shows is 126 weeks – this equates to 2.4 years out of their 14 year history.
And finally, if every show was performed back to back, it would take 100 days.
—————————————-
 
The Unicorn Theatre's Artistic Director Purni Morell has been speaking about next season at the London theatre.
Located along from London Bridge the theatre is designed specifically for children and their families with a wide range of shows championing the best in children's theatre.
Perni now in her third year as the artisitic director said: "One of the things I've been thinking about a lot recently is what we as adults expect from the theatre we take our children to; for example, how can we be sure that, when we take them to see a play, we're not encouraging them to see the world the way we want them to see it, but instead allowing them the space and freedom to explore the world on their own terms.
"This preoccupation is what underpins the whole of our next season at the Unicorn – my third as Artistic Director – and I'm extremely excited to find out over the course of the year how our audiences, young and old, will respond to the very different shows on offer"
There's more news and reviews on children's theatre at www.childrenstheatremagazine.co.uk
—————————————–
The New Wolsey Theatre Ipswich has appointed two new Agents For Change, as part of its mission to make arts accessible to all.
The theatre says diversity is one of the New Wolsey Theatre's core principles and in recent year's disability diversity has been evidenced in a number of collaborations and co-productions with Graeae, programming work by deaf/disabled artists, and participatory opportunities within its Creative Learning offer.
Amy Nettleton and Jamie Beddard have started their roles with the theatre, working with all departments to create, administer and advise on how the building and staff can work more accessibly with deaf/disabled artists, performers, audiences, participants and other members of staff. They will be involved with developing audiences, helping create relationships and breaking down boundaries that individuals or groups may feel will stop them getting involved with the theatre.
Amy Nettleton will be working with the Creative Learning team and the New Wolsey's youth theatre offer and the work the Young Associate create. She will also be working closely with the Front of House team and Sales and Marketing team to create more accessible communications tools for audiences.
She said: "I am really excited to be joining the New Wolsey as an Agent for Change. Living locally, the New Wolsey Theatre has been an arts venue I have spent many years visiting. I am a practicing professional visual artist with a studio based in Suffolk.  My background is firmly based in the Arts, working in Arts education, public art galleries and outreach, as well as the disability sector working with schools and education professionals, most recently acting as Arts Education Outreach officer at University of Essex"
Jamie Beddard will be working with the Artistic and Programming team, and the organisations in the South East Disability Action Group. He will also drive the delivery of community projects. Jamie has worked as an Associate and Director for a range of organisations including Graeae, Diverse City and the Clore Leadership Programme, and has also worked as a Diversity Officer for the Arts Council.
He said: "I have many ties to Ipswich – family, the arts and football! – and am delighted to be working in the region, and in particular, with the New Wolsey, an organisation that I have long visited and respected.  There is genuine commitment too, and activity around reflecting the community in which the Theatre is located.  As a disabled theatre director and performer, I have spent many years advocating for access, inclusion and rights.  All these underpin the values of The New Wolsey, and it is gratifying to be able to focus upon the creative challenges in consolidating on the brilliant work already being done by the organisation.  And 'Agent of Change' is a great title; I hope I can live up to it!"
——————————-
If you live in London then there's plenty of really great children's theatre to see this Christmas – Flossie Waite lists what to see on her website. Here she writes:
Set your Satnav to the second star on the right and grab garments a Pantomime Dame would be proud of! 'Tis the season to be jolly, which is also the most popular season for taking children to the theatre. Here's a round-up of some of the best productions in London this Christmas.
Scrunch
Anyone who has spent Christmas with a baby knows that for them, it's all about wrapping paper – when I was little, my mum just wrapped up random objects because I enjoyed ripping off the paper so much. Scrunch is a sensory production for 6-18 months exploring the best bits of Christmas when you're really little.
Unicorn Theatre, 9th December – 4th January 2015
https://www.unicorntheatre.com/whatson/62/scrunch
Cindermouse
Fairytales are a favourite during the festive season, and Little Angel Theatre provides their own version of Cinderella. Suitable for 3-8 years, Cindermouse uses glove and rod puppets to tell the classic story with mice!
Little Angel Theatre, 20th November – 1st February
http://www.littleangeltheatre.com/whats-on/cindermouse/
Raymond Briggs' Father Christmas
Raymond Briggs' has become synonymous with Christmas – it's hard to imagine a winter world without Walking in the Air, or his grumpy take on St Nicholas. If you've ever wondered how Father Christmas copes with his busiest night of the year, this production for children under 6 is for you.
Lyric Hammersmith, 14th November – 31st December
http://www.lyric.co.uk/whats-on/production/raymond-briggs-father-christmas/
Peter Pan
The boy who never grew up first flew onto the stage during Christmas 1904. 110 years later, Peter Pan is still a popular choice at this time of year, injecting magic and adventure into the theatre. For ages 6+, Polka Theatre's production promises all the swashbuckling pirates and tick-tocking crocodiles of the classic story, with the help of puppetry and original songs.
Polka Theatre, 21st November – 14th January
http://www.polkatheatre.com/whats-on/peter-pan
The Nutcracker and the Mouse King
The ballet The Nutcracker is another Christmas tradition, but the Unicorn's magical production uncovers the original story for audiences aged 8+.
Unicorn Theatre, 21st November – 4th January
https://www.unicorntheatre.com/whatson/69/the-nutcracker-and-the-mouse-king
Beegu
Based on the much-loved children's book by Alexis Deacon, Beegu is the tale of a friendly creature whose spaceship crashes into a planet. Audiences of 3-8 years old will watch as Beegu explores the curious place she has discovered: Earth.
Arts Depot, 3rd – 13th December
https://www.artsdepot.co.uk/family-christmas/beegu
One Snowy Night
Percy the Park Keeper finds squirrel, fox, badger and hedgehog shivering on his doorstep one snowy winter night. Audiences of 3-6 years are invited into his hut as he helps the animals stay warm and get to sleep. This production celebrates the 25th anniversary of Nick Butterworth's best-selling picturebook.
Discover Children's Story Centre, 28th November – 24th December
http://www.discover.org.uk/whatson/event/one-snowy-night1
The Fourth Wise Man
You've heard of the three wise men, but did you know there was a fourth? And he struggled to come up with a good enough gift? And worried about what to wear? For ages 4+, this is a funny story about one man and his camel on a momentous journey.
Unicorn Theatre, 30th November – 4th January 2015
https://www.unicorntheatre.com/whatson/66/the-fourth-wise-man
There Was An Old Woman
Leading children's theatre company Oily Cart present a new production for children aged 3 – 5. There Was An Old Woman is a multi-sensory journey through a world of shoes that keep getting mixed up.
Southbank Centre, 13th December – 4th January 2015
http://www.southbankcentre.co.uk/whatson/there-was-an-old-woman-who-85523
A Christmas Carol
If you want a Christmas production with a difference, why not see a show on a boat? Puppet Theatre Barge presents A Christmas Carol, the classic story of miserly Scrooge being visited by the Ghosts of Christmas Past, Present and Future. Suitable for children aged 4+.
Puppet Theatre Barge, November 29th – January 11th 2015
http://www.puppetbarge.com/Temporrarynotice.htm
The Night Before Christmas
It was the night before Christmas and all through the house, not a creature was stirring not even a mouse. Except Eddie, a little mouse with a big wish to celebrate Christmas, and Emily, a little girl who can't wait for Christmas Day. This production for 3-7 year olds promises to get everyone in the Christmas spirit!
Watermans Theatre, 11th – 23rd December
http://watermans.ticketsolve.com/shows/873520886/events?show_id=873520886
Follow Flossie on Twitter @ctheatrereviews or see her website at http://childrenstheatrereviews.com/

——————————-
On the eve of one of the most important games of his career, Welsh rugby legend Gareth Thomas received a warning: The Sun newspaper was going to "out" him as gay. Rubgy is not known for its embracing of the gay community despite the likelihood of there being just as many players who are gay as in any other walk of life. The story has inspired a new play to be staged in Cardiff in the spring about the issue and it will be of particular interest to teenagers who have a universal interest in sexuality.
The National Theatre of Wales has teamed up with Out of Joint for a new touring play about Bridgend's Gareth Thomas called Crouch, Touch, Pause, Engage directed by Max Stafford-Clark.
Working with young people in Bridgend, Out of Joint and the National Theatre Wales will tell the story about sport, politics, secrets, life and learning to be yourself.
Crouch, Touch, Pause, Engage will open at the Sherman Theatre, Cardiff, in February 2015, before touring Wales and England (including London). Full details about the show's tour, and its cast, are to be announced in the new year. Writer Robin Soans known for his documentary verbatim plays based on interviews with real people, is the man behind the script.
Gareth played Rugby Union until switching to Rubgy League in 2010, but announced he was gay in 2009 making him an influential gay figure in Britain and the sporting world. He retired from rugby in 2011.
—————————————
The juggernaut theatrical experience that brings the snowball to the stage in a blizzard of physical theatre, clowning, music and pathos is on the road this winter.
Slava's Snow Show is the creation of Vyacheslav Ivanovich "Slava" Polunin a Russian performance artist and clown.
The part-drama, part-ballet, part- circus is notoriously hard to define. The company's website states it is not suitable for very young children but is loved by those over five – and in particular by young adults.
If you go be prepared for the ending. it's enigmatic to say the least and almost surreal. And for those who wonder if there is a narrative, then if you pick up the clues there's a love story in there. If you've never seen Slava then it's worth the effort just for the snow.
Slava's Snow Show runs at the BIRMINGHAM Hippodrome from 12-16 Nov, 0844 338 5000; WOKING New Theatre 19-23 Nov; BATH Theatre Royal, 26-30 Nov, 01225 448844; EDINBURGH Festival Theatre, 3-6 Dec, 0131 529 6000; MANCHESTER Lowry, 9-13 Dec, 0843 208 6000; Royal Festival Hall, Southbank Centre, 17 Dec-5 Jan.
—————————————

When war stopped for football
TV and radio has been awash with stories, dramas and documentaries about the anniversary of the First World War this autumn as the horrors of the 1914-1918 conflict resurfaced to remind us how the 20th century was shaped by the conflict. One of the quirkier aspects of the war on the Western Front was the football matches played between opposing troops on Christmas day in 1914.
Bristol Old Vic is staging a dramatization of War Game, an illustrated novel by artist Michael Foreman. The opening months of the First World War are seen through the eyes of a village football team who sign up as soldiers, train, and are despatched to the Front.
Interactive storytelling combines with comedy and tragedy to create a distinct environment and atmosphere, evoking the spirit of adventure that swept young men to war, only to find themselves making the ultimate sacrifice for their country.
Using the language of football commentary, and a sparse set that transports the audience between 2014 and 1914, War Game is a one man show, performed by Robin Hemmings, which uses the audience to create the rest of the characters. Timothy X Atack provides state of the art sound technology, while Bristol Old Vic composer in residence Kieran Buckeridge creates music and a vast soundscape for the show, using the recorded and distorted voices of the audience at each performance to aid storytelling.
Toby Hulse, Director, said: "War Game was created to commemorate the centenary of the war. The production tells this simple but powerful story in a playful, theatrical style, engaging directly with the audience, on a set inspired by the book's illustrations.  It uses both original music and songs of the period, and actively involves the audience through live sampling and looping.  What a wonderful way to discover this part of our history."
• The show runs from Tue 11-Sat 22 November. Bristol Old Vic Theatre, King Street, Bristol BS1 4ED England. 0117 987 7877; www.bristololdvic.org.uk; tickets@bristololdvic.org.uk
———————————
It's early days but the website for Children's Theatre Magazine is here – you're looking at it! Although at the moment there's not too much on it – but it's building daily. It will soon be joined by a monthly online magazine about the subject of professional standard theatre for children aged 0 to 18 years of age.
We'd love to get your photos, news, views and previews – and if you'd like to review or contribute with articles then so much the better. For details email childrenstheatremagazine@outlook.com
—————————————————————————-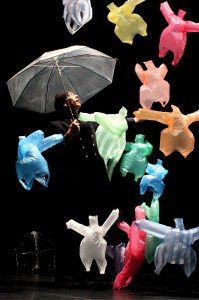 L'apres-midi d'un Foehn performs in the Bristol Old Vic this week as Non Nova breath theatrical life into the humble plastic bag. The faithful friend of a million shoppers are magically brought to life by a mysterious ballet master. Borne aloft on currents of air, they are transformed into heavenly dancers capable of astonishing performances. A pirouetting solo is followed by a tender and comic pas de deux until a full corps de ballet fills the air, joyously swirling and twirling to the music of Debussy. It on from Thursday and Friday 16th-17th October in the King Street Theatre's Studio
at 2pm, 6.30pm, plus 8.30pm on Friday. Tickets £12/£7. Details at http://www.bristololdvic.org.uk/lapres-midi.html
—————————————————————
RSC announces 2015 season with 2 plays aimed at children
The highlights include:
• Miller Centenary: 100 years after Arthur Miller's birth, Antony Sher and Alex Hassell play Willy Loman and his eldest son, Biff, in Death of a Salesman in the Royal Shakespeare Theatre
• 'Venice' season:
– Pairing of The Merchant of Venice, directed by Polly Findlay, and Othello, directed by Iqbal Khan in the Royal Shakespeare Theatre:
o Hugh Quarshie and Lucian Msamati play Othello and Iago
– Three contemporary takes on classic plays in the Swan Theatre explore the idea of the 'outsider':
o Trevor Nunn directs Henry Goodman in Volpone by Ben Jonson
o Justin Audibert and Matthew Dunster make RSC directing debuts with The Jew of Malta by Christopher Marlowe and Love's Sacrifice by John Ford
• New 'First Encounter with Shakespeare' tour: The Famous Victories of Henry V tours schools and theatres across England in a new production specially for young people aged 8 and upwards
• A Midsummer Night's Dream: A Play for the Nation:
– Thirteen UK partner theatres, amateur theatre-makers and schoolchildren work with the RSC on a national tour to mark the 400th anniversary of Shakespeare's death in 2016
– Partnership confirmed with the BBC for 2016 anniversary
– Hour-long edit of the play released so schools all over the UK can create their own productions as part of the celebrations
RSC, Swan Theatre, Waterside, Stratford-upon-Avon, Warwickshire CV37 6BB. 0844 800 1110 www.rsc.org.uk
———————————————————————–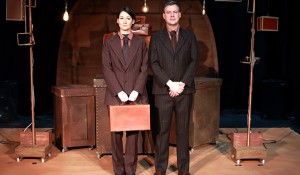 The Secret Life of Suitcases: an eccentric play for children at London's Unicorn Theatre

Larry works in an office and he likes it very much. He likes sorting and tidying and generally putting things in order. But one day, a suitcase suddenly appears at his door. Join Larry as his world gets turned upside down by a fantastical flying suitcase in this funny and enchanting new collaboration with Scottish puppeteer, Ailie Cohen. The Secret Life of Suitcases. Thu 18 Sept-Sun 12 Oct 2014. An Ailie Cohen Puppet Maker and Unicorn production. By Lewis Hetherington and Ailie Cohen. For ages 4+. Duration: 45 mins. Unicorn Theatre, 147 Tooley Street, London SE1 2HZ. Box Office: 020 7645 0560; boxofficestaff@unicorntheatre.com; www.unicorntheatre.com
—————————————————————————————–
RSC's The White Devil gets a shot of hormones. Runs until 29 Nov
STRATFORD-UPON-AVON Royal Shakespeare Theatre: The White Devil. 30 July-29 Nov. John Webster's The White Devil, a tale of blood, murder, sex and betrayal. Just what many teenagers find of interest. The production directed by Maria Aberg runs from 30 July – 29 November 2014. £5 tickets available for those aged 16-25. Royal Shakespeare Theatre. Waterside, Stratford-upon-Avon, Warwickshire CV37 6BB England; 0844 800 1110; ticketqueries@rsc.org.uk; www.rsc.org.uk
————————————————————————————————-